L2 The rescue operations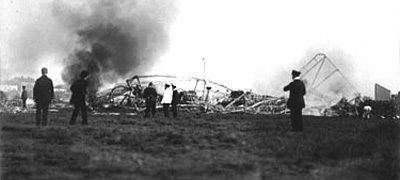 The rescue work turned out to be extremely difficult:
The cleanup work was startet yesterday afternoon at 5 'o clock by pioneers. The teams advanced with saws, axes, spades and other tools and to do extremely difficult work. The debris were partly wedged together and often had to be sawed apart with saws. The single pieces were thrown onto a big pile and will be removed this morning.
At the clean-up the completely charred corpses of Sailmaker Petty Officer Müller and Engineer Schüler from Friedrichhafen were found. The men of the Marine Detachment, despite the injuries that they acquired from the pointed and sharp wreckage, entered couregeously the tangle of metal and wires. With strong ropes they pulled apart the skeleton and tried to reach the corpses.
Apart of the military experts from the Imperial Navy and numerous officers of any type of weapon also appeared Fire Chief Reichel from the Berlin Fire Department with the Fire Inspectors Hammer and Mende and several Fire Chiefs at the accident scene. Furthermore many well-known exprts, including Professor von Parseval, Major Gross, Captain von Jena and Colonel Messing. At about 7 p.m. the clean-up works where cancelled. The accident scene was encircled by the men of the 3rd Guards regiment, who arrived at 7 p.m., the whole night through.
The brave mechanics and officers have died as they stood at their posts. In the front guide gondola the found the bodies of Captain Lieutenant Freyer, Lieutenant Commander Behnisch and the other two officers and Captain Gluud. Captain Lieutenant Freyer had clung to a wire and pulled leather jacket over his head, apparently to protect himself to the last against the flames. Gluud was completely charred on the upper body. Also the body of Lieutenant Commander presented a terrible sight. The mechanics where found mostly stretched out along the engines at their posts, which they had occupied at the moment when death overtook them.
The worst seem to have had suffered the teams at the rear gondola. Here, the explosion acted less strong and the fire destroyed the rear end only on the ground completely. Here the Marine Chief Engineers Busch and Haussmann were found.